Moderators: q292u, Ray, AndyAdmin, Stranger
Advanced Driver
Posts: 672
Joined: Wed Feb 13, 2008 8:33 pm
Currently Drives:: 03 Megane 1.9 dCi 120 Dynamique Sport Hatch in Black.
Nervasport alloys, Comfort Pack, Full Leather interior, 6 Disc CD Changer,
Panoramic Roof, and loads more stuff.
Location: North Yorkshire
Anybody else's getting worn like this?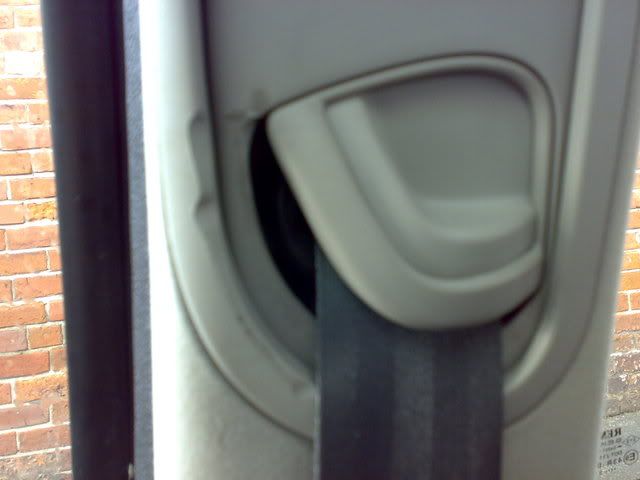 Or is it just mine?

Black 03 Megane dCi 120 Dynamique Sport Hatch. Gone but not forgotten.
Black 56 Pug 207 GT 1.6 Turbo
---
I do have exactly the same thing on mine specially driver side,I thought of adjusting the height of the seat belt might cure it but without success.
My car is still under warranty,do you think I can claim it?
Megane II 2006 sedan,Grey eclipse (B66),1600cc,16V, VVT,steptronic
---
Advanced Driver
Posts: 672
Joined: Wed Feb 13, 2008 8:33 pm
Currently Drives:: 03 Megane 1.9 dCi 120 Dynamique Sport Hatch in Black.
Nervasport alloys, Comfort Pack, Full Leather interior, 6 Disc CD Changer,
Panoramic Roof, and loads more stuff.
Location: North Yorkshire
I don't think you will get one under warranty. But you can always try.
Ive been watching the way i pull the belt when i put it on and its definitely me thats doing it and not the previous owner

I'm wondering it just happens to the 3 door model as it a fair stretch back to grab it and pull?
Anybody else?
Black 03 Megane dCi 120 Dynamique Sport Hatch. Gone but not forgotten.
Black 56 Pug 207 GT 1.6 Turbo
---
Just Passed
Posts: 108
Joined: Fri Mar 28, 2008 2:20 pm
Currently Drives:: 54 Plate Megane Dci 86 Rush - Platinum Silver
Mine is getting bad now.
Dont think its just the way that you pull it to you, just general wear as you move about when driving.
I think it is just the 3 door, as the 5 door is a lot closer and probably comes away from the plastic as it's coming over your shoulder.
Alex

---
Forgot to mention,mine is a SEDAN
Megane II 2006 sedan,Grey eclipse (B66),1600cc,16V, VVT,steptronic
---
Rally Driver
Posts: 1046
Joined: Thu Mar 24, 2005 11:55 am
Currently Drives:: 04 Megane 1.9dCi replaced with a 07 Toyota Auris 2.2 D-CAT 180
Location: County Durham
mine is quite bad, and mine is a five door.
2004 Megane II 1.9dCi
---
Passed Theory
Posts: 48
Joined: Fri Jun 13, 2008 12:19 pm
Currently Drives:: 1.8 Zafira Life Auto
Mines worn worse than the photo, on both passenger and drivers side - 5 door, 42K. I only spotted it this weekend, and thought maybe the previous owner(s) had a bump and that caused it, slighlty glad to see it's a common problem now.
04 Plate 1.6 Dynamique

Issues to Date:
Dephaser - replaced
Cam Sensor - replaced
Start up problems, goes to two cylinders unless reved to hell - annoying, but untraced cause.
Water Leak in Boot - removed, came back, removed, came back again. Given up
---
Dear all,

I have changed mine with a new one,but to my surprise it started very slightly to do the same thing,and after many investigations,I found out that it is due to my adjustement to the driver chair,I mean since I am on the short side (175 cm) so I am pulling the chair a bit towards the steering wheel and the height is adjusted to almost max,and the back of the chair almost in the upright position,but that is how I am comfortable.

when I readjusted these settings I mean inclining the back a little bit and lowering the chair and pulling it to the back a little bit also,well it made a difference and the seat belt is not touching the plastic guide any more,though I have to get used to the new settings,I will keep you posted for future changes.
Megane II 2006 sedan,Grey eclipse (B66),1600cc,16V, VVT,steptronic
---
F1 Driver
Posts: 1957
Joined: Sat Aug 23, 2008 5:22 pm
Currently Drives:: Megane Saloon 2.0 VVT Dynamique
Location: Belfast, Northern Ireland
Contact:
Just to put my two pence worth in... This is due to a poor choice of plastic on Rens front. Out of all the many types that are out there, they choice one that degrades under friction.
A slightly tougher thermosetting plastic could have been used and sorted this problem for no extra cost in terms of manufacture. But then you know this...
But for as good as Ren is, they never could get the plastics right.

P
---
my new car which is about 2 months old. It has already started to form that shape as shown in the picture.
---
Advanced Driver
Posts: 286
Joined: Tue May 06, 2008 2:49 pm
Currently Drives:: Megane SportsTourer 1.9 dCi 120 PS, 01/2004, Polargrey, Confort Privilege (Partial leather, Alpine 9871RR, 16"-Alloys, 6-speed)
My gallery: http://meganeboard.de/viewtopic.php?t=3437&start=0
Mine's got 60000 mls on the clock and it is still like new in that respect
---
Posts: 7
Joined: Sun Oct 05, 2008 5:57 pm
Currently Drives:: Megane Sport Saloon 1.5 dCi100 Expression
Definately not just limited to the 3 door. I have a saloon and mine is just as bad, with the seat adjusted right back too.
Typical of renault - cheap crappy plastics.
Mustn't grumble though. I've had the car nearly a year now, and it is the ONLY issue i've had with this car.
A breath of fresh air when compared to my Laguna dCi
2004 Megane 2 "Sport" Saloon 1.5 dCi 100 Expression
---
Dear All
Last update on the seat belt thing, this is definitely a seat belt problem!!!
Any one with this problem should opt for a new seat belt as the retraction springs in the seat belt are faulty so it leads to the plastic wearing plus it is very unsafe to use this faulty seat belt.
Who ever still in warranty should go directly to Renault dealers to change the seat belt.
I have changed mine and problem was gone, they know about it at Renault but they do not bother changing it as long as customers are not aware of it.
If you want to test it, pull the seat belt out and then leave it suddenly, it should be retracted totally with the same speed, if you have a faulty one you will see that the retraction speed is fast at the begining and then at the end it moves very slowly that you have to lift it with your hands else it will sag.
Megane II 2006 sedan,Grey eclipse (B66),1600cc,16V, VVT,steptronic
---
---
Return to "Problems / Questions"
Who is online
Users browsing this forum: No registered users and 44 guests